Director, Research Office
E-mail: tfetahi@gmial.com
Summary
In a developing country such as Ethiopia, where many misfortunes hover around livelihood systems, basic or purely theoretical research could perhaps take secondary position. Research that leads to realizable development outcomes perhaps is given priority. Such an approach requires the sound assessment of environmental impact of the development venture and the integration of social and gender variables.  Finding solutions leading to development with focus on sustainable resource management may have to take a prime position, since rural Ethiopia directly depends heavily on natural resources.
Addis Ababa University is expected to carry development oriented and problem solving research, give consultancy services to the public and private sectors, continuously upgrade skill of the civil servant and involve in the improvement of performance level of government structures and general working environment. The government of Ethiopia has drawn special attention to issues of human resources.
The government would like Addis Ababa University to identify broad areas of research that are of strategic importance to the country (see list of research priority areas). These could be areas such as strengthening research and capacity building in the area of biotechnology, water resources, environmental sustainability, rural development and energy production, conservation and utilization. Government policies and sector strategies such as rural development, capacity building, and industrial development strategies require high engagement of universities in research and training. In general, in pursuit of the national goal, establishing and strengthening of research-led and development oriented university and internationally competitive educational system are key areas that have been given attention by the government.
General objectives of the research programs
To make research programs of the university proactively respond to the national demand of generating and disseminating new knowledge and technology, strengthening and developing the capacity of students in contemporary science and technology.
2018/2019 Achievements
Addis Ababa University has been implementing the AAU – SIDA bilateral research cooperation starting from 1 July 2018.  During 2018/19 academic year, a number of achievements have been made through using Automation of Research Management System and Academic Staff Mobility to various international countries. The 2017/18 annual subscription fee of AAU Research Management System Software – Converiswas paid by SIDA project. Thus, AAU transferred Euro 32,000 to Clarivate Analytics (formerly known as Thomson Reuters), the sole owner of Converis software. Consequently, AAU staffs have benefited from automated submission scheme and have submitted over 2000 research articles published in reputable scientific journals and over 150 research proposals in user-friendly Converisonly in one year.
SIDA also supported women AAU researchers and call for proposal is posted at AAU website and application is underway. The grant will be awarded late 2019.
The other program which the Sida project supported during the 2011 E.C budget year was academic staff mobility of Addis Ababa University. The following table shows the name of the researcher, their article and conference which they participated.
AAU Academic staff articles presented at international conferences by College/ institute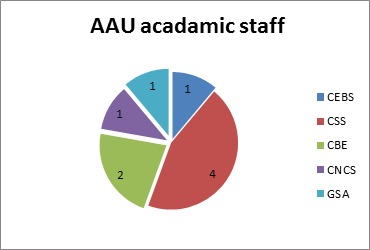 CEBS:- College of Education and Behavioral Studies
CSS:- College of social science
CEB:- College of Business and Economics
CNCS:- College of Natural and Computational Sciences
GSA:- Institute of Geo-Space Science and Astronomy