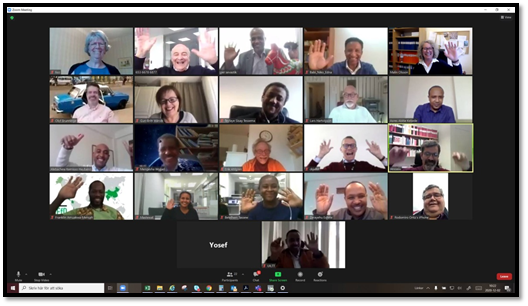 AAU-Sida Projects' Coordinators organized the third Annual Planning Meeting
The webinar Annual Planning Meeting (APM) was organized from 30 November to 02 December 2020 on the bases of the five years research cooperation agreement signed in 2018. This meeting was held very late and online because of COVID-19 Pandemic, which was actually supposed to be held annually in mid–May 2020. ISP/Uppsala extended the invitation to 38 principal investigators from Addis Ababa University, AAU, Ethiopia, and from Swedish partner universities. The image above presents the partial view of the participants.
Left to right, first row: Prof. Lisbeth Södering;(Electric Power & Control PhD Program, Swedish Partner), Dr. Per Sevastik;  (Councellor,  Embassy of Sweden, Addis Ababa),  Prof. Brook Lemma; ( Sida Projects' Coordinator), Dr. Tadesse Fetahi; (Director for Research Office), Ms. Malin Olsson; ( Finance Personnel, SLU), Second row : Prof. Olof Brunninge; (Academic Director, JIBS), Prof. Gun-Britt Wärvik; (Researcher, Department of Education, GU), Dr. Tesfaye Sisay; (Director, Institute of Biotechnology, AAU),  Mr. Lars Hartvigson; (JIBS), Dr. Asres Abitie; ( PI for Management PhD Program, AAU), Third row: Dr. Alebachew Kemisso; ( Chairperson, Center for Comparative Education and Policy Studies), Dr. Mengesha Mamo; (Electric and Power Control Program, AAU), Prof. Erik Ahlgren;  (Researcher, Chalmers), Dr. Claes Kjellström; (Research coordinator, Africa Department Sida/Stockholm) , Dr. Hossein Aminaey; ( ISP, Uppsala), Fourth row: Dr. Franklin Amuakwa- Mensah;  (University of Gothenburg), Ms. Mastewal Moges; ( Assistant Sida Projects' Coordinator), Mrs. Betelhem Tassew;  ( Assistant Sida report writer) , Dr. Zerayehu Sime, (PI for Economics PhD Program, AAU), Prof. Rodomiro Octavio Ortiz Rios;  (Biotecnología, SLU),  last row: Mr. Yosef Shiferaw; (AAU-ICT Director), Dr. Shumey Berhie; (Director University Industry Linkage and Technology Transfer, AAU).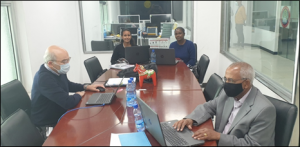 Professor Brook Lemma, Sida Projects' Coordinator of AAU and Dr Per Sevastik, Councellor of the Swedish   Embassy in Adds Ababa chaired the meeting.
Mrs. Anika N. Jayawardena Minister Councellor at Swedish Embassy welcomed all virtual participants and explained that it is a very important meeting to take note on what is happening and what is not, and to learn from each other to setup the annual plan and budget.
During the session, 2019/2020 budget year achievements were reviewed and 2020/2021 project year activity and budget plan presented by project PIs.