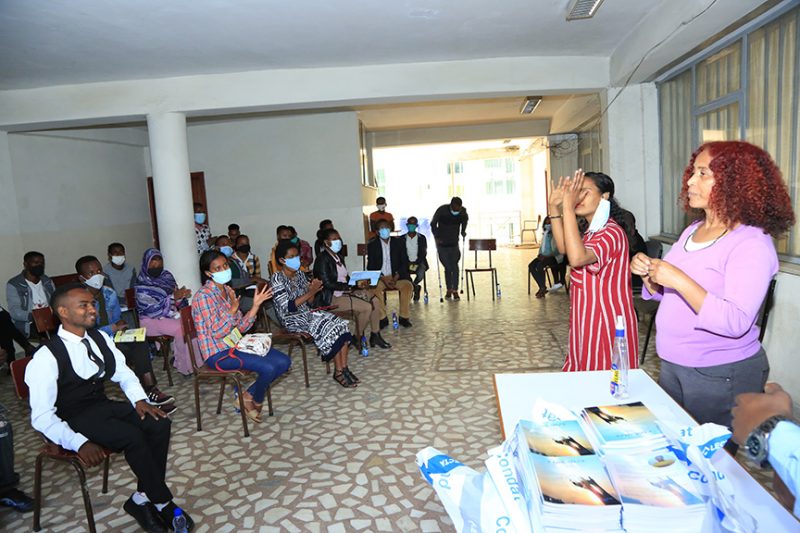 AAU Special Needs Support Center Holds Graduation
Addis Ababa University (AAU) Special Needs Support Center (SNSC) graduated students trained for ten days in sign language and JAWS support computer training at the main campus on 24 Nov. 2020.
SNSC carried out the training as well as the graduation with the support of Swedish International Development Agency (SIDA)
The center graduated 10 students with hearing impairment in sign language and 10 others in JAWS support computer training who are visually impaired.
Yirgashewa Bekele (PhD), director for the SNSC stated on the occasion that the graduates were grateful and very committed to gain useful knowledge from the short term training. She also encouraged them to continue their efforts to maximize advantages.
"The era is technologically advanced and most activities are done with the help of advanced technologies. So, our students should have access to the latest technology in the education system specially students who need a special support. And our center is always ready to do this as much as possible," Dr. Yirgashewa said.
Professor Brook Lema, AAU's SIDA project coordinator said that the Swedish government has made tremendous roles to support the University and offered significant contributions in many developmental issues of the country over the past 40 years through the SIDA project and its embassy.
Professor Brook mentioned that helping students of the Special Need Support Center is one among the supports of Swedish government. He also hopes that the support for these students will sustain in the future.
In liaison with the graduation, a fiction book entitled "YETESFA AZURIT" written by Grum Tadesse, student of hearing impairment, was inaugurated.