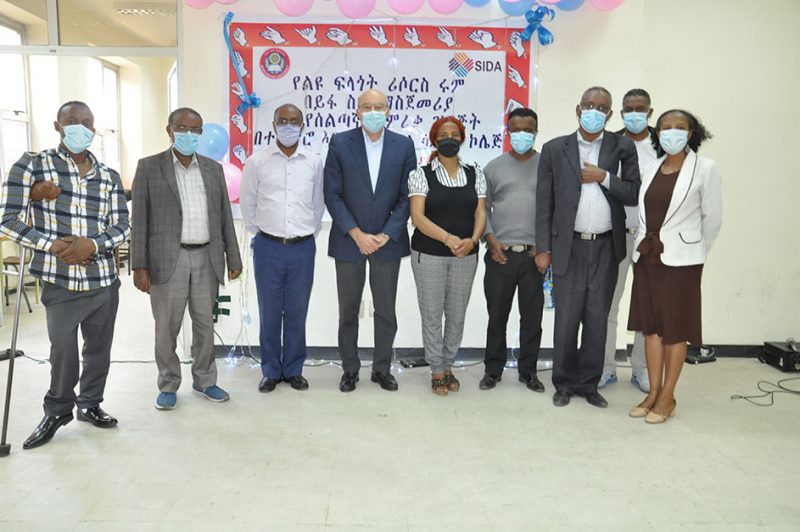 Special Needs Support Center Officially Launches Its Newly Organized Unit
Special Needs Support Center of Addis Ababa University (AAU) officially launched Special Needs Resource Room in the College of Natural and Computational Sciences, Arat Kill, at Water Management Building Hall on the 25th of March 2021.
Yirgashewa Bekele (PhD), director of Special Needs Support Center (SNSC), stated during the event that the purpose of opening the new Unit is to make its services accessible towards students attending in different compasses.
"For years, our services have been limited to the Main Campus, Sidist Killo, where the Special Needs Support Center is found. Many students with disabilities have been facing challenges to get its services traveling long to it. Hence, we felt this pain and have decided to go to the students and be available near to them for our supports. We have done this today and will also continue to other campuses in similar ways," Yirgashewa intensified.
Alemayhu Teklemariam (PhD), head for Special Needs Department, stated that AAU is a historical University being able to admit students who were visually impaired since its establishment in 1950.
 "Ten years back and before, disabled students, especially those with hearing impairment in particular, had no any opportunity of access to higher education. Nowadays, not only visually impaired students but also others with many cases join AAU. The university has so far graduated more than 200 deaf students," Alemayehu added.
In liaison with the inaugural of the Unit, SNSC graduated 29 students trained in supporting Jaws and visualized desktop access, advanced sign language and soft skill training in collaboration with SIDA.
The event was themed, "comfortable, accessible and which leads result service for all" and attended by university officials, delegates from SIDA and students with different disabilities.
By: Tenagnework Mekonnen
Photo: Andualem Aseffa
Editor: Abraham Girmay