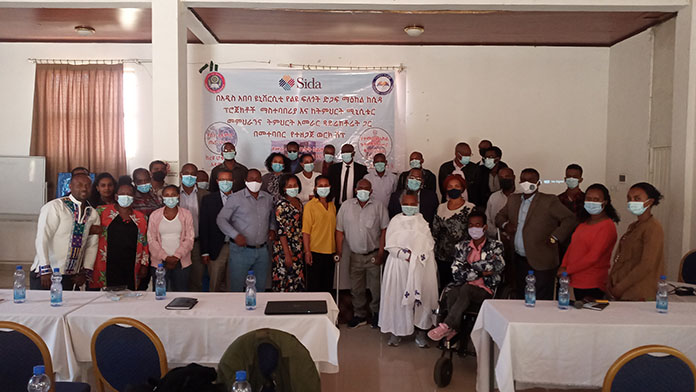 AAU Special Needs Support Center Organizes a Workshop
Special Needs Support Center of Addis Ababa University (AAU) organized a day long workshop in collaboration with Ministry of Education and SIDA at Adama Kereyou Resort on Thursday, 4th of March 2021.
According to Yirgashewa Bekele (PhD.), Director of the center, stated on her opening remark that the main objective of the workshop is collecting ideas which can help as inputs for teaching learning processes of students with disabilities.
"To collect the targeted input from the workshop, the Center has presented three researches conducted with financial support of SIDA. They are targeted in three main focus areas, such as the condition of mental health, the state of job opportunities for graduates with disabilities and the status of teachers and educational leaders who train computer and sign language skills," Dr. Yirgashewa highlighted.
Agaredech Jemaneh (PhD.) member of the office for Academic Vice President of AAU, on her part underlined the importance of the workshop to help students with disabilities of AAU, and called upon all stakeholders to stand together to alleviate challenges with disabilities.
Ms. Mastewal, from SIDA coordinating office of AAU, mentioned the ardent financial support of SIDA since 40 years back which has been helping many graduate level (MA and PhD) students to achieve their academic career. The office also gives support to carryout workshops and other similar activities, she added.
The result from a research paper presented by Yirgashewa Bekele(PhD.) focused on "The Situation of Mental Health", indicated that the area is not yet well explored and the Special Needs Support Center will have an assignment to work on this issue.
A tracer study, "The State of Job Opportunity of Graduates with Disabilities", presented by Abebe Yehualawork (PhD.), pointed out that there is no good opportunity of jobs for disabled citizens and the condition was extremely worse in the last three decades.
A paper presented by Mekonen Manaye, assessed the Center's effort on its in-service training programs and the result showed that the trainees and their regional governments are not aware of the skill training and to the sign language usage. However, a few Regional States and NGOs have made some differences by implementing the training as due oriented.
By: Zelalem Moges
Editor: Abraham Girmay