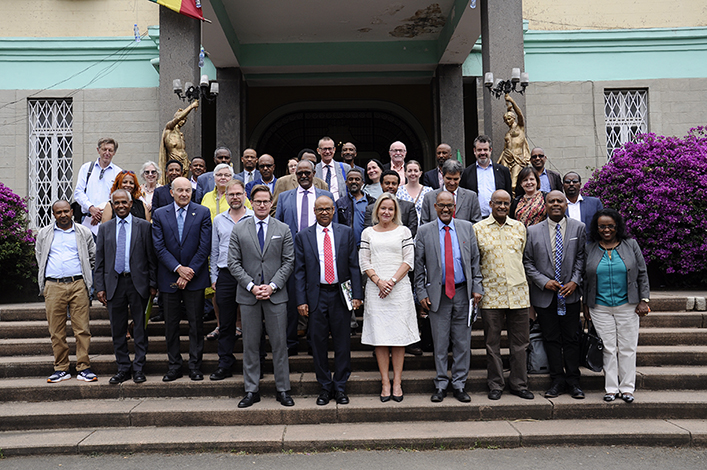 AAU and Sida Go through 42 Years Together for Development
Addis Ababa University (AAU) and Swedish International Development Cooperation Agency (Sida) celebrated the 42nd anniversary of research and capacity building cooperation at Ras Mekonnen Hall on the 17th of May 2022.
AAU and Sida's cooperation was started since 1979 focused on research and capacity building at graduate level; MSc/MA, PhD programs as well as facilitating and strengthening ICT, library, financial, procurement and laboratory facilities through the so called block grant and then in thematic programs.
Professor Tassew Woldehanna, President of AAU, said on the celebration that this momentous day for AAU and Sida is gained through the collaborations based on mutual respect that is geared in to the making of a significant contribution to the development of this country.
According to Prof. Tassew, the long history of the international relation of Ethiopia and Sweden has surpass 150 years and now AAU and Sida picked up the initiative of nation building in line with the common interest and mutual respect of the two institutions towards the advancement of science, technology and social development.
"Before Sida started involve itself in the graduate program at AAU, the Swedish assistant known as Sida/SAREC Bilateral Research Cooperation supported the establishment of Ethiopian Institute of Architecture, Building Construction and City development (EiABC) and the Institute of Ethiopian Studies (IES), pediatrics  clinic and child nutrition institute,"  the president added.
 As prof. Tassew expresses that AAU started to develop projects and academic programs and also capitalized in the intact cultural language, history, agriculture, health and other sectors with the collaboration of attracted international funding organizations around the world to solve Ethiopia's long standing social problems. Sida/SAREC took up the initiative to conduct research in areas of common interest in conjunction with the opening of Masters and PhD programs following the so called 'sandwich model' interfaced between AAU and Swedish Universities.
It is at this time said prof. Tassew the two larger projects 'Flora of Ethiopia and Eritrea' and the 'Butajira' projects were launched.
Prof. Tassew underlined that like any other universities in the world, AAU has to mobilize international fund to promote internationalization, student exchange programs and conduct collaborative researches. "By Understanding these basic facts, I hope Sida continues to collaborate with AAU on financing of collaborative research projects and staff and student mobility grants. AAU respects academic freedom and have never violated as it has been clearly stipulated in the AAU senate legislation and exercise to their fullest extent throughout the university have always served as the basis for AAU's international relation, for academic research and community engagements," Prof. Tassew noted.
Mr. Hans Lundquist, the Swedish Ambassador to Ethiopia on his opening remarks said that Sweden is extremely happy to be such a close partner with Ethiopia and the current programs with AAU has so many achievements going through different projects.
"I can say that we are on the go, by passing so many challenges. In the meantime, we came up with the booklet 'AAU on the go' which is a joint product between AAU and Sweden. It is full of achievements and also unavoidable challenges of the so many years of cooperation. The inauguration of this booklet is my stone because it has an extra ordinary story to tell the story starting from 1979," the ambassador said.
The "Cube of Hope" sculpture was inaugurated in front of John F. Kennedy Library at Sidist kilo Campus, sculpted by Artist Bekele Mekonnen and Michel Östlund that shows the longstanding partnership achievements between Ethiopia and Sweden. In addition, honored officials delivered valuable presentations which demonstrated the comprehensive cooperation between AAU and Sida.
See the Video below: