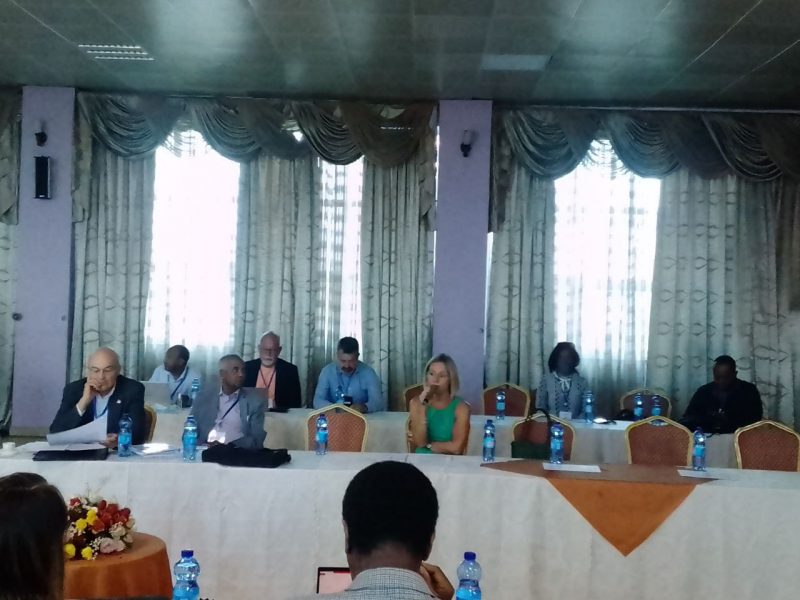 AAU Sida Projects' Coordination Office Organized Annual Planning Meeting (APM) for two days; 18 to 19 May 2022 at Sarem International Hotel.
The meeting was organized on the bases of the agreement signed in 2018 that was aimed for research cooperation between the Government of Sweden and Addis Ababa University for five years (08 July 2018- 07 July 2023).
Project PIs from Swedish Partner Universities and AAU participated in the meeting both face-to-face and virtually.
Mrs. Åsa Andersson, Minister Councilor, at the Embassy of Sweden Addis Ababa welcomed all participants and expressed her pleasure in addressing the annual planning meeting. In her opening speech, Mrs. Åsa Andersson mentioned that it is fascinating to have a physical meeting after frequent virtual meetings because of Covid-19 and the conflicts in Ethiopia. She also added we have to stand up to academic freedom and integrity. In our Cooperation with AAU we need to play a significant role in human rights''. She finally expressed her gratitude for the successful organization of AAU-Sida 42nd anniversary, the inauguration of the sculpture, namely, '' the Cube of Hope'', and the compilation, printing and distribution of the 42-year AAU-Sida achievements in a booklet entitled ''AAU on the Go''.
On behalf of Professor Tassew Woldehanna, President of AAU, Professor Brook Lemma, Coordinator of AAU-Sida Projects recognized the longstanding assistance of Sida and the Embassy of Sweden in Addis Ababa to the development of higher education In Ethiopia, which is now fast approaching its half-century of enduring contribution in building not only AAU but also, by extension, all Ethiopian public universities. It is the skilled-graduates of these universities and their research outcomes conducted on national problems ranging from poverty to gender balance and upholding of human rights in all its aspects that are promoting the national development of the country. In due course and in the coming weeks, AAU will conduct East African Regional Conference on Academic Freedom in Higher Education in Africa with cases of the same as practiced in Swedish universities.
Dr. Per Sevastik mention in his opening speech that It is very important to have a thematic discussion in the annual meetings.
Professor Brook Lemma mentioned in his speech that War in Ukraine affects AAU-Sida program. Swedish government reduced 2022/23 disbursement, some of our activities are moved forward to support refugees of Ukraine.
During the session, the 2022/2023 budget year plan and the budget reduction because of the instruction given by the Swedish government to support Ukrainian refugees were briefly discussed.