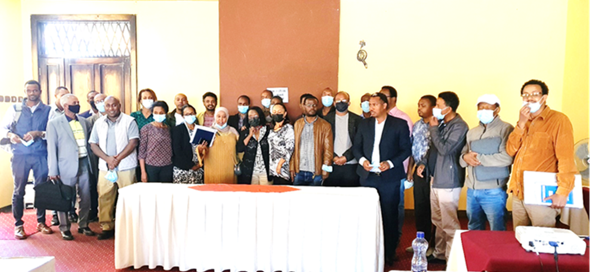 Addis Ababa University has conducted two ToT training: Writing Grant-Winning Proposals and Research Ethics
Background
Addis Ababa University and University of Gothenburg (UoG), Sweden initiated two ToT training: Research Ethics &Methods and Writing Grant-Winning Proposals. The proposal was funded by Sida. The approach was to train top AAU researchers and cascade the knowledge earned at the training together with their own rich experiences to their colleagues in their respective colleges and institutes. This jointly-organized training promotes cooperation and create vibrant research environments that sustainably builds academic capacity at AAU that addresses key developmental challenges in Ethiopia.
Brief report on the training
Trainee of trainers (ToT) on Writing Grant-winning Proposal was conducted from January 21 -23, 2022 at Bishofu town. Thirty (30) selected senior faculty members of AAU were participated. The specific topics covered includes, the proposal write-up, demonstrating the scientific contributions of the proposed research, conceptual and empirical frameworks, building credibility, academic honesty, RBM (logical framework) and impact and strategies for inter-disciplinary and international collaborations.
Similarly, the Ethical Research ToT training was conducted from January 28-30, 2022 at Bishoftu town. Another thirty (30) trainees were participated from all Colleges and Research Institutes of the University. The training focused on ethical conducts in academic research, which includes topics such as respecting human, animal and environment subjects, not resulting with any harm to the subjects, ethical considerations on co-authorship, building on earlier work, academic honesty and integrity, plagiarism and detection of plagiarism, intellectual property rights, and involving justice and fairness.
Two key professors from University of Gothenburg, Sweden have attended the meeting virtually as resource persons. Due to Covid-19 travel restriction, they cannot attend the meeting in person
Top Picture 1. Participants of Writing Grant-Winning Proposals Training.
Bottom Picture 2. Participants of Research Ethics Training
Since the ToT approach is a cascading approach, the trainees will conduct a couple of workshops to deliver similar training in their respective College and Research Institutes starting from February- May 2022. These trainings will be technically and financially supported by AAU.
Addis Ababa University Sida project has covered the training expenses for both trainings and AAU has supported the remaining and cascading training expenses. The Vice President for Research and Technology Transfer would like to thank Sida and its Office at AAU, the trainers, the Finance and Budget Director, Procurement Director, ToT trainees and the organizers.