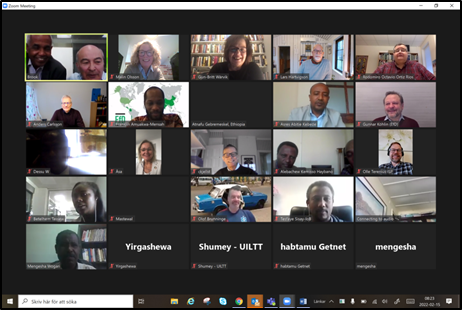 AAU-Sida Projects' Coordination Office organized the Fourth Annual Review Meeting
AAU Sida Projects' Coordination Office organized the 4th webinar Annual Review Meeting (ARM) for two days; i.e., 15 to 16 February 2022.The meeting was organized on the bases of the agreement signed in 2018 that was aimed for research cooperation between the Government of Sweden and Addis Ababa University for five years (08 July 2018- 07 July 2023). Professor Olle Terenius, ISP/Uppsala distributed the invitation to all principal investigators from Addis Ababa University and Swedish partner universities.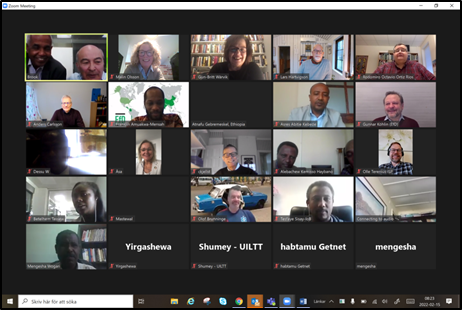 The image above shows the partial view of the participants.
Left to right, first row: Prof. Brook Lemma (Sida Projects' Coordinator),Dr. Per Sevastik (Councellor, Embassy of Sweden, Addis Ababa), Ms. Malin Olsson (Finance Personnel, SLU), Prof. Gun-Britt Wärvik  (Researcher, Department of Education, GU), Mr. Lars Hartvigson (JIBS), Prof. Rodomiro Octavio Ortiz Rios  (Biotechnology, SLU), Second row Anders Carlsson: Dr. Franklin Amuakwa-Mensah (Researcher, University of Gothenburg), Dr. Atnafu Gebremeskel (Interim PI,  Economics PhD Program), Dr. Asres Abitie (PI,  Management PhD Program), Prof. Gunnar Köhlin (Researcher, JIBS/JU), Third row: Dr. Dessu Wirtu (Coordinator of Teaching and Learning Assessment Support center),Minister Councellor Åsa Andersson (Embassy of Sweden, Addis Ababa), Dr. Claes Kjellström (Research coordinator, Africa Department Sida/Stockholm), Dr. Teshome Nekatibeb (Center Head for International and Comparative Education), Dr. Alebachew Kemisso ( Researcher, Center for Comparative Education and Policy Studies, former Head of the Center), Prof. Olle Terenius (Program Coordinator, ISP, Uppsala), Fourth row: Mrs. Betelhem Tassew (Assistant Sida Report Writer), Ms. Mastewal Moges( Assistant Sida Projects' Coordinator), Prof. Olof Brunninge (Academic Director, JIBS), Prof. Tesfaye Sisay (Director, Institute of Biotechnology, AAU), Fifth row: Dr. Mengesha Mamo (Electric Power and Control  Engineering PhD Program, AAU), Dr. Yirgashewa Bekele (Director, Special Needs Education Center, AAU), Dr. Shumey Berhie (Director University Industry Linkage and Technology Transfer, AAU), Mr. Habtamu Getenet (Senior Research Expert, AAU).
Professor Brook Lemma, Sida Projects' Coordinator and Dr. Per Sevastik, Counsellor at Swedish Embassy and responsible for research cooperation in AAU, Chairpersons of the meeting, made welcoming speech and gave a brief introduction of the ARM meeting.
Mrs. Åsa Andersson, Minister Councellor, Embassy of Sweden welcomed all participants and expressed her pleasure to address on the 4th Annual Review Meeting.
During the session, 2021/2022 budget year plan and achievements were reviewed.
Assessments on risk factors that affect the achievements of the planned activities especially Covid-19 Pandemic and possible adjustments in the programme implementation were discussed.