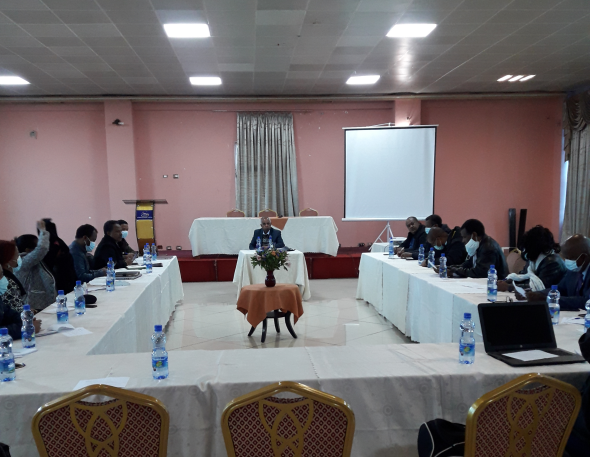 Sida Projects' Coordination Office (SPCO) organized a half-day Meeting.
Sida Projects' Coordination Office (SPCO) organized a half-day meeting on the future of exsting projects at Sarem International Hotel, Addis Ababa, on 03 August 2021. The first agendum of the meeting was to discuss on, the 40th anniversary of AAU-Sida collaboration, the future of existing projects, the future of Gender and disability PhD pilot program and possibly other new project ideas.
Professor Brook Lemma, Sida project coordinator chaired the meeting and Project Principal investigators (PIs) of the four collaborative projects and AAU beneficiary units of the Research and capacity building project such as AAU-ICT, AAU-Library. Graduate Program, Research Office, Technology Transfer Office, Gender and Special Needs and others participated. All participants agreed to consult their Swedish participants and to come back to the next meeting scheduled on 24 August 2021 with more organized proposal outlines.
Under the second agendum, Professor Brook Lemma Sida Project coordinator emphasized that in the coming project year, all Principal Investigators or Project Leaders need to be sure that all expenditures follow the budget lines as captured in the signed Budget/Activity Plan of 2021-2022. All payments should refer to the annual plans (2019/2020, 2020/2021 and 2021/2022) at authorizing payments and all need to start procurement processes as early as possible to get over the difficulties the projects faced in the last budget year.
Meeting participants recognized Sida support and showed their willingness to support AAU-Sida 40th anniversary committee and work out what they should present at the ceremony sometime in late October or early November of 2021.